Connect to one or all of the offices below to see how they might help support you.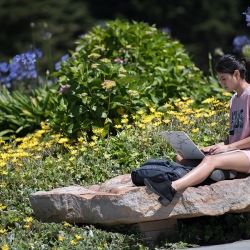 Counseling & Psychological Services (CAPS)
The mission of Counseling & Psychological Services is to enhance the psychological well being of the entire campus community and thereby facilitate the retention and successful educational experience of students, faculty, and staff.
Counseling provides an opportunity for students to freely explore personal problems or concerns. Students come to CAPS for reasons as varied as the people themselves; personal problems involving relations with parents or peers, emotional or social difficulties, relationship conflicts, anxiety or depression, sexuality and orientation, concerns about academic progress or direction, and other issues.
The professionally licensed counselors/faculty of Counseling & Psychological Services include licensed marriage and family therapists, psychologists and clinical social workers, trained to work with San Francisco State's multicultural student body. Several of their counselors are also bilingual, offering counseling in Farsi, Korean, Mandarin, and Spanish.
Phone: (415) 338–2208
Website: psyservs.sfsu.edu
Email: caps@sfsu.edu
Location: SSB 208